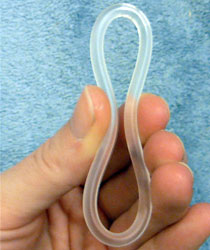 Introduced in 2001, NuvaRing is a hormonal contraceptive device that releases a combination of etonogestrel, a synthetic generation progestin, and the estrogen, ethinyl estradiol. The small, flexible ring is designed to be inserted into the vagina once a month. It is kept in place for three weeks, and prevents pregnancy by releasing controlled amounts of those hormones into the bloodstream.
NuvaRing is marketed as the first and only, once-a-month vaginal birth control ring.  The Defendants claim NuvaRing is as effective at preventing pregnancy as other hormonal birth control methods, including birth control pills, but with more convenience because it offers "month long protection, so women who use NuvaRing do not have to think about contraception every day."  The package insert accompanying NuvaRing stated that the vaginal ring is expected to be associated with similar risks to that of birth control pills.  However, the NuvaRing package insert is misleading because the safety information provided to consumers was derived primarily from studies of birth control pills, and not primarily from studies of NuvaRing.
Results from an FDA-funded study that involved 800,000 American women using some form birth control between 2001 and 2008 revealed using NuvaRing increased the risk of blood clots, including deep vein thrombosis and pulmonary embolism, by 56% in comparison to older birth control pills. The FDA study noted that combined hormonal contraceptives, including the etonogestrel/ethinyl estradiol vaginal ring, "potentially result in higher sustained exposure to estrogen and hence, increased thromboembolic risk."
A second study, published on May 10, 2012 in the online edition of the British Medical Journal, found that NuvaRing users had a 6.5 times higher risk of experiencing a serious blood clot compared to women who did not use any form of hormonal birth control. The likelihood of experiencing a dangerous blood clot was 90% higher among users of the vaginal ring than it was for women taking combined oral contraceptives containing levonorgestrel.
Among other things, there was a failure to warn of the extent of venous thromboembolism, including pulmonary embolism and deep vein thrombosis, associated with NuvaRing. Further, a synthetic, third generation progestin called etonogestral, which is used as a starter in NuvaRing, was not the subject of sufficient and adequate testing.  Defendants knew or should have known that information conveying certain adverse events, including deep vein thrombosis, pulmonary embolism, and death, should have been set forth in NuvaRing's package insert.
Hundreds of NuvaRing lawsuits alleging the device caused serious side effects, including blood clots, deep vein thrombosis, pulmonary embolism, heart attacks, strokes, and wrongful death are currently pending in U.S. District Courts.
Dubendorf Law Firm is now focused on fighting for the rights of serious personal injury victims of harmful drug side effects.  This includes the birth control device NuvaRing lawsuit on behalf of women who suffer an acute pulmonary embolism and other pains and side effects.
Dubendorf Law Firm is currently offering FREE NuvaRing lawsuit consultations to victims of alleged NuvaRing side effects, including:
Venous Thromboembolism (Blood Clots)
Deep vein thrombosis
Pulmonary embolism
Heart attacks
Strokes
Wrongful death
To discuss a potential claim, please contact us for a free consultation.